 Up to 500Mb, totally unlimited, full fibre optic broadband
Your home, better connected for a brighter future
With more data-hungry devices in our homes than ever before, our 100% all-fibre network, lets you download films, catch-up on your favourite TV shows, stream music, play games and stay in touch with loved ones - all at the same time.
Plus, with the FibreNest Price Guarantee, you'll never pay more for the same speed package than with the UK's largest broadband provider.†
Choose the package
that's right for you 1
500Mb - Ultrafast Broadband
Exceptionally fast broadband - great for families with many devices, avid gamers, home workers or those who spend a lot of time online.
Up to

500Mb

download
Up to

50Mb

upload
£45 per month
+ a one-off £60 set-up 2
250Mb - Megafast Broadband
For more demanding households - stream 4k Ultra-HD content, play online games and more on multiple devices all at the same time.
Up to

250Mb

download
Up to

25Mb

upload
£40 per month
+ a one-off £60 set-up 2
125Mb - Superfast Broadband
Do much more online - like watch full HD TV whilst performing larger downloads and generally being more active on the internet.
Up to

125Mb

download
Up to

10Mb

upload
£35 per month
+ a one-off £60 set-up 2
75Mb - Faster Broadband
For the moderate user - browse the web more intensively or play online games at the same time as watching catch-up TV.
Up to

75Mb

download
Up to

7Mb

upload
£30 per month
+ a one-off £60 set-up 2
20Mb - Standard Broadband
Basic broadband - perform more of the everyday online essentials like streaming music and downloading larger files.
Up to

20Mb

download
Up to

2Mb

upload
£25 per month
+ a one-off £60 set-up 2
10Mb - Budget Broadband
Our entry level service - suitable for basic general web browsing, email, online shopping and banking.
Up to

10Mb

download
Up to

1Mb

upload
£13 per month
+ a one-off £60 set-up 2

Just need a landline? No problem.
Great value voice packages available from as little as £4.99 per month.
These can be taken independently or in addition to our broadband packages
The FibreNest Hub
Our FibreNest Hub not only looks amazing, it delivers super speedy Wi-Fi throughout your home. Either free-standing or wall-mounted, it keeps all your devices online at the same time and its high-performance forwarding capabilities ensure an excellent experience with VoIP and online HD video services.
Key features
1 x Fibre optic port

Dual-band Wi-Fi 2.4GHz (b/g/n) & 5GHz (a/n/ac)

4 x gigabit Ethernet ports

2 POTS ports (to connect a telephone handset to our voice service)

1 x USB2 port

Built-in parental control

Dynamic power saving including scheduled Wi-Fi shutdown
It's easy to get connected to the FibreNest Hub and friendly support is available from our UK call centre Monday - Friday 8am – 8pm and Saturday 9am – 5pm.
Click here to view the technical specification.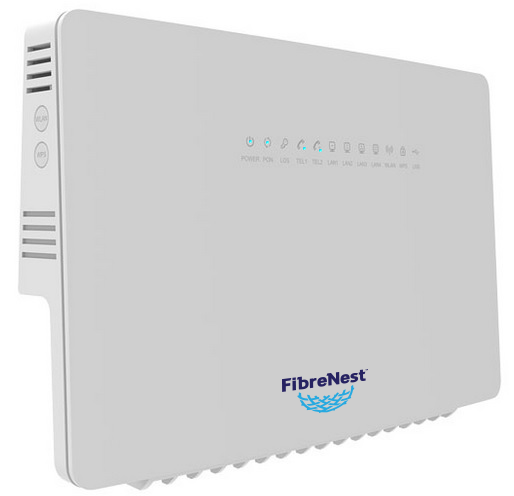 How our packages compare
Estimated download times based on download type and maximum download speed offered
500Mb
250Mb
125Mb
75Mb
20Mb
10Mb

One album (12 songs)
(60Mb)

5-minute video
(20Mb)

1hr TV Show
(1GB)
LARGER DOWNLOAD TIMES
Show for: