We understand that entrants who have submitted their reviews are excited to see the winners announced. However, due to the Covid-19 situation and keeping in mind the safety of our employees and customers, we have decided to postpone publishing details of our monthly draw winners until further notice.
Winners will still be drawn but at a later date.
We'd love to hear your views…
We're passionate about delivering the highest level of service and would be delighted to hear what you've got to say about your experiences with us. We use all feedback to continually improve all aspects of what we do to ensure that you can continue to enjoy a superb standard of online connectivity.
Please leave us a review on

by clicking the link below and you could be in with a chance of winning a £500 Amazon voucher in our monthly prize draw. Draws are announced at the end of the month and winner's details published on this website shortly thereafter.*
Important: Ensure that you include your plot number and the name of the development in the title of your review so that we can identify you in the prize draw.
Previous Winners
January 2020
Mr Liladhar
Persimmon Homes, Bluebell Wood, Coventry
Reviewed on Google Reviews – 21st January 2020
I rely on broadband to work and so far I can say I have had great customer service, they were quick to set me up in my new home that was still being built, so that I do not need to worry about engineer call out when I move in. Staff on the phone and on emails are very helpful (and quick to respond!) in making sure all my needs were met and also helped make sure I had chosen the best tariff for me and my requirements - Highly recommended.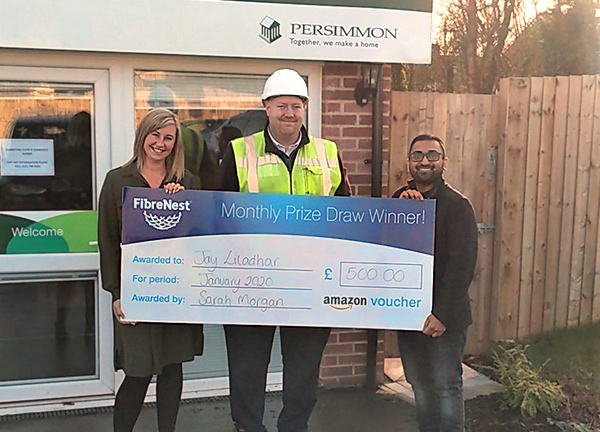 December 2019
Ms Starkey
Persimmon Homes Heritage Gate, Llantwit Major
Reviewed on Trustpilot – 11th December 2019
Couple of teething problems at the start with getting online, however once the process started the fibrenest team of engineers were polite, hardworking and worked well with the onsite team from Persimmon to ensure that the estate became live. In terms of the fibre performance, could not be happier. The cost v performance is good value for money.
November 2019
Ms Hazel Turner
Persimmon Homes The Hedgerows, Alsager
Reviewed on Trustpilot – 7th November 2019
All set up quickly and simply on moving in day as promised. Connection speed so far so good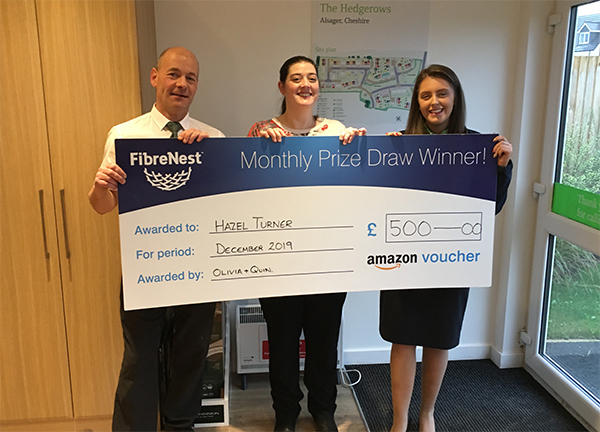 October 2019
Ms Bartliff
Persimmon Homes Germany Beck, York
Reviewed on Trustpilot – 17th October 2019
The Internet was up and running when we moved in, which was fantastic! No delays with service and no issues getting connected. The only issue we've had has been not quite receiving the speed we were expecting, however the customer service team have been working on this for us and we're very happy with the service we've received so far!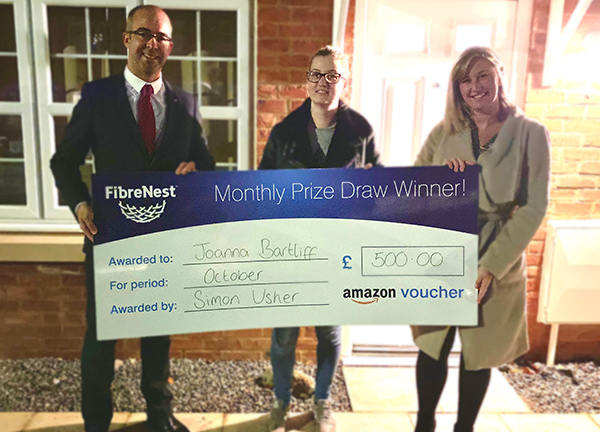 September 2019
Mr & Mrs Veacock
Persimmon Homes Saltram Meadows, Plymouth
Reviewed on Trustpilot – 14th September 2019
Quick and easy to set up, we purchased a new build everything was in place just ready to activate.
August 2019
Ms Laurel Sweets
Persimmon Homes Wellington Gate, Wantage
Reviewed on Trustpilot – 11th August 2019
Really good service. They couldn't connect us right away but gave us a 4G dongle whilst we waited. I don't know any other providers who do that. Only 4 stars because there was a delay in getting us connected due to a piece of equipment not being available, but seeing as we had the dongle it wasn't really a problem.
July 2019
Mr Jamie Low
Persimmon Homes Castle Gardens, Glasgow
Reviewed on Trustpilot – 16th July 2019
Glad to get the service installed. Colin and Martin were very attentive when setting up the service and ensured I was connected and up and running before leaving. Thank you.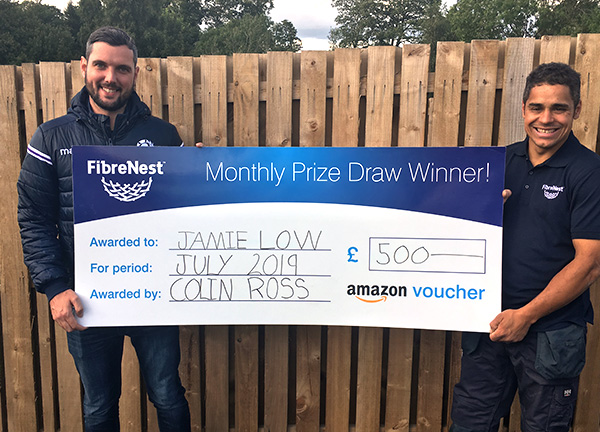 June 2019
Mr. Steve Gardner-Collins
Persimmon Homes Nuthill Green in Brockworth, Gloucester.
Reviewed on Trustpilot – 20th June 2019
Fantastic speed and great customer service.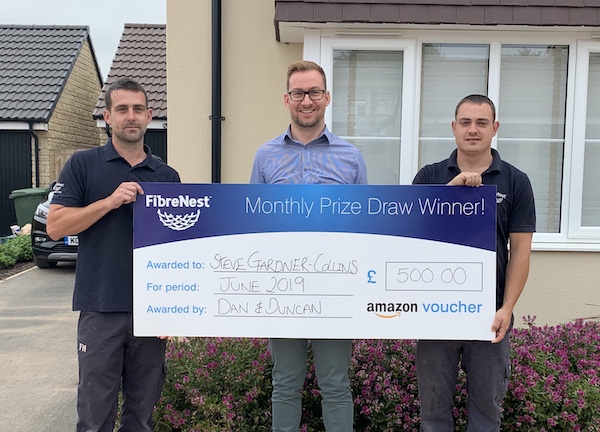 May 2019
Mr. Matthew Bould
Persimmon Homes Manor Vale in Pickering, North Yorkshire
Reviewed on Trustpilot – 29th May 2019
I had never heard of Fibrenest before I purchased our new build Persimmon home. I was quite wary at first but after speaking to the customer support team they really did put my mind at ease. It was important for me to have the internet set up ready for when we moved in and fibrenest sorted this out for me within a day of calling. Top service so far and speed is very good!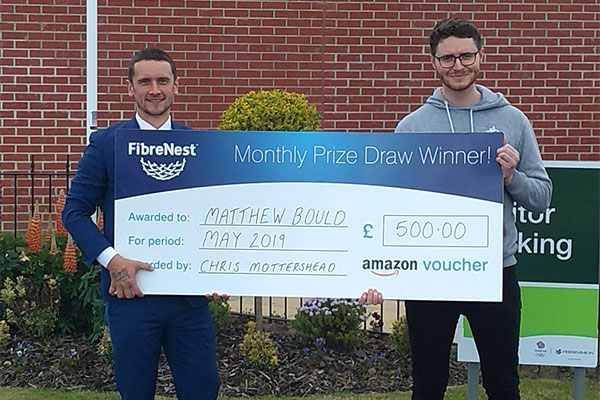 April 2019
Ms. Georgia Barker
Persimmon Homes Brookwood Chase, Buckshaw Village, Lancashire
Reviewed on Google Reviews – 3rd April 2019
Good provider, was quick and easy to get online as they had already put boxes in the houses on the development (I was in a new build). They give a 3 month free trial of the highest package which was good but we ended up going with the one below which has been fine really. No complaints so far.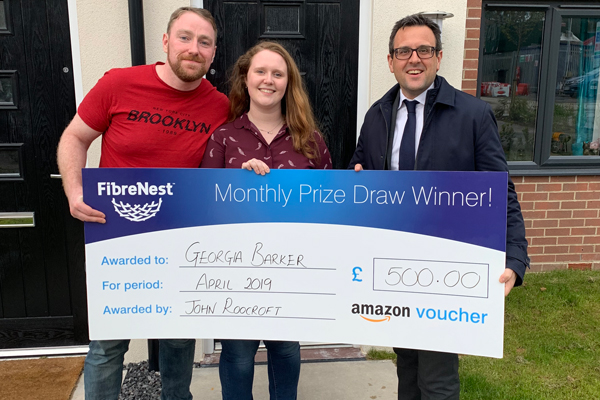 March 2019
Ms. Stephanie Segar
Persimmon Homes Cromwell Gardens in Huntingdon, Cambridgeshire
Reviewed on Trustpilot – 18th March 2019
Really pleased with the quick internet and great service we have received so far. Have to admit I was a little apprehensive about having no choice but to use fibernest until the development is completed as I had never heard of them before but I'm really pleased. Really competitive prices and the speed is fantastic. We are a family of 4 and the kids love gaming on the PCs, using their phones and tablets and we often stream movies at the same time downstairs, you wouldn't notice the crazy usage as it's a super speedy service! Will not be looking to change providers if it continues with these speeds and service levels!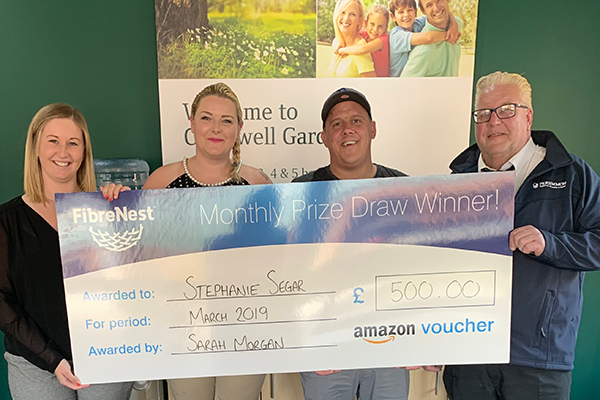 February 2019
Mr. Graeme Alexander
Persimmon Homes Annick Grange in Irvine, Scotland
Reviewed on Trustpilot – 27th February 2019
It's been great no issues at all.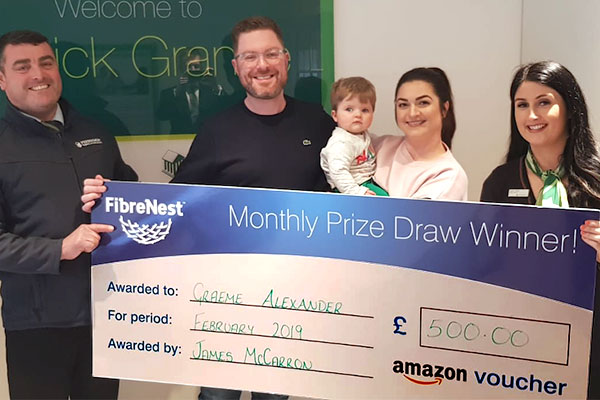 January 2019
Ms. Maddy Gallacher
Persimmon Homes Low Moor Meadows, Morley, Leeds.
Reviewed on Trustpilot – 25th January 2019
It is so refreshing to come across a Can Do attitude. I had a very long and frustrating phone conversation yesterday evening with Fibrenest as I was unable to access the internet in order to join Fibrenest. I eventually spoke to Sarah who was very understanding but still unable to assist me. However, without my knowledge Sarah asked Derek and Matt the engineers on site to call at my home and assist me.
I am so delighted with their helpful and pleasant attitude. They couldn't do enough for me. I am now a subscriber to Fastnet [FibreNest] and can contact my granddaughter, not forgetting the online shopping of course..
So very thrilled, thank you Sarah for arranging this. Thank you Derek and Matt for not making me feel like a techy dinosaur, although I am.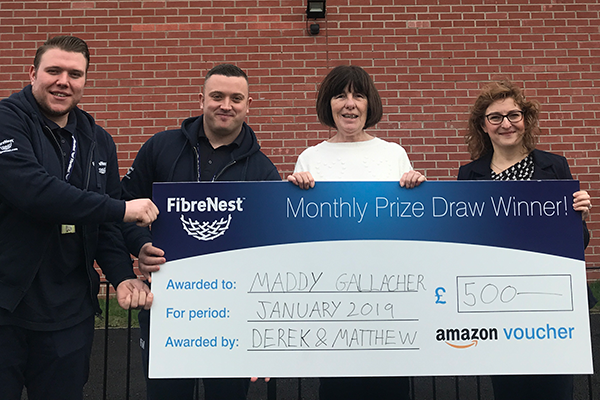 December 2018
Ms. Amber Hardwick
Persimmon Homes Millenium Farm in New Waltham, Humberston.
Reviewed on Trustpilot – 11th December 2018
Chris, Matt and Derek stayed extremely late to ensure our internet was up and running. Very friendly and professional.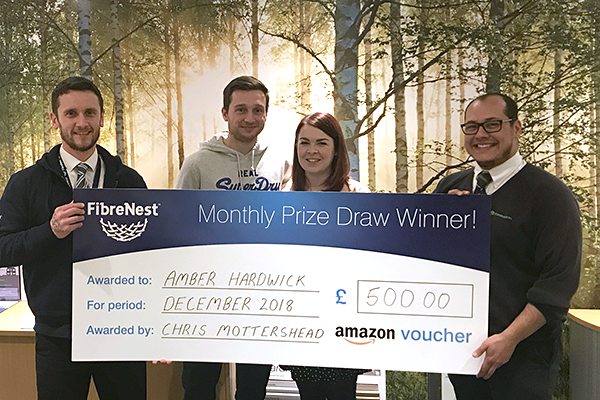 November 2018
Mr. Jonathan James
Persimmon Homes Plas Helyg in Parc Derwen, Bridgend
Reviewed on Trustpilot – 14th November 2019
Excellent customer service - Chris and his team are fab! Going above and beyond where ever they are able. Myself and my partner recently bought a new build on the Persimmon Plas Helyg site in Coity, Bridgend, due to being a corner plot we were connected to a row of houses yet to be built and would have been waiting a number of weeks for a connection, Chris and his team spent time solving this problem by putting their heads together to come up with a solution and connecting us elsewhere on the site. Couldn't ask for a better attitude or service! Thank you very much!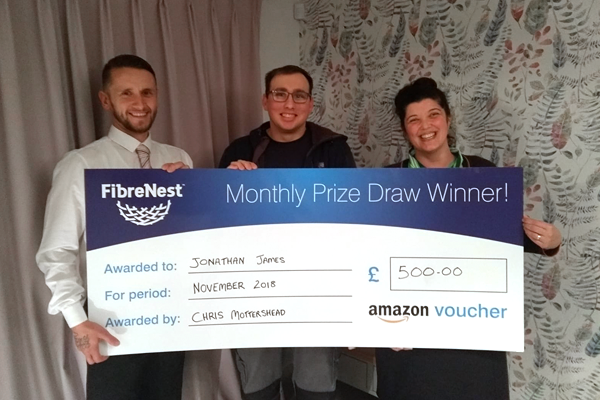 * Not all winners and reviews will be published online, as customer consent is required to do so but not always provided.